The true practitioner of the healing art should be an unprejudiced observer.
As we know, knowledge is based on observation and experience as a physician. We required scientific knowledge that would be acquired through minute observation and experimentation observation is nothing but perception with a definite purpose. It is finding out the fact to become a seeker of truth.
We must observe its clear and broad attitude so that we can find and record the facts without any bias. Ideal observation fails when it is either non-observation or mal-observation.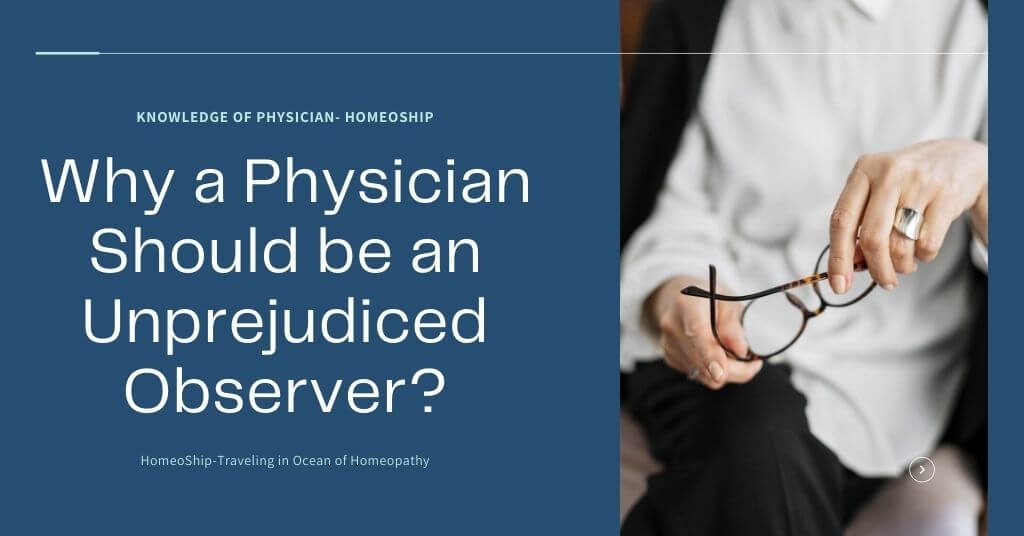 Non-Observation
We observe because we have some purpose. now suppose we have a free convince favorite theory in our mind. So we observe those facts we support that theory or sometimes the physician does not even try to observe because of his unconscious bias. The fact or the symptoms that do not support our theory can be overlooked or escaped in the observation. This is an instance of an observation where the facts are neglected, this is also called a Negative Fallacy because this is a mistake committed by the negative approach. For the none-trying approach of the physician.
Mal-Observation
This is a Positive Fallacy because here the physician observes that fact wrong or mistakes are arising out of wrong interpretation. The facts are twisted so, a false picture arises in this observation. The physician may lack in his knowledge of the disease or his knowledge of medicine or selection of similImum
The unprejudiced observer must be free from all bias pre-convinced theories unwanted assumptions and must be ready to accept the fact and truth as it is seen in the patient even though it may be opposite to the fact which is popularly known. Besides treating Judiciary, the physician is required to study the totality of perceptible signs and symptoms comprising the altered sensation and functions that can be obtained from the patient and the physician's observation, which plays an important role so that the chances of an error are abolished.
Also Read :
Hope you understand What is Unprejudiced Observer! if you have any doubt! you can always ask us in the comment below. Follow us on Instagram for more updates.