Forensic science is divided into two parts the First one is Forensic Medicine, this part has no such significance to the medical field as this part mainly dealing with the laws and offenses, but yes at certain places medical terminologies are used, and the other part which is known as Toxicology which is a bit more important & difficult than the forensic one as it has significant importance in the medical field as it deals with the poisons and their treatment.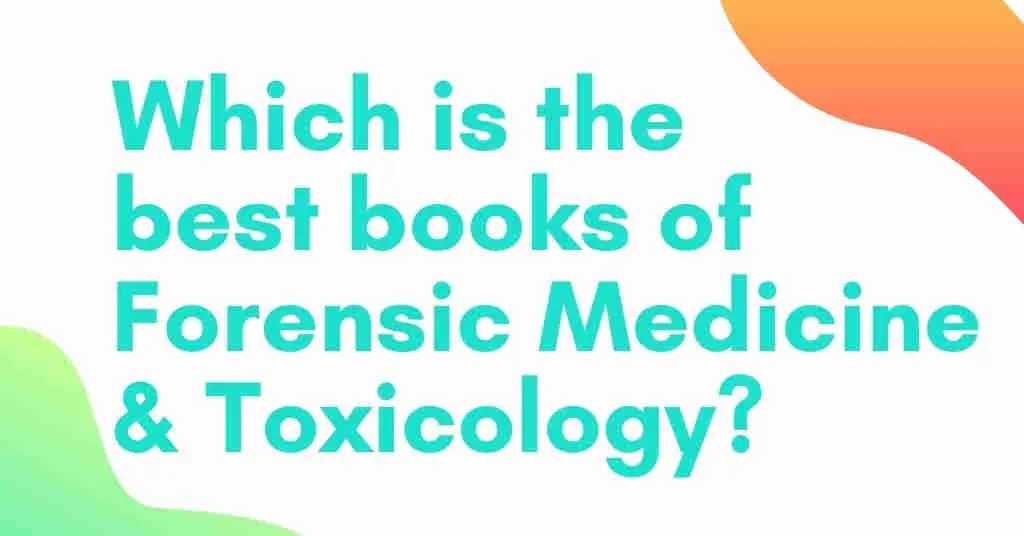 Generally, students give lesser priority to forensic medicine and toxicology, as they have other important subjects to study such as pathology microbiology &, etc. which create a huge burden on students. So to reduce that stress from the students we have selected some easiest books for students.
Find out: Which is the best book for the other subjects?
1.The Essentials of Forensic Medicine and Toxicology by K.S. Narayan Reddy, O.P. Murty (Popularly Known as Reddy)
Narayan Reddy is considered a standard book for FMT (Forensic Medicine and Toxicology) though it is a tough book. Certain things you might not get in your mind, at first sight, it's just like reading an MD level book in your Bachelor's.  Its language is a bit complicated but yes as you read the topic twice or thrice you will get the concept. Don't get bored and go twice or thrice you will get the concept but you can't rely only on one book for exams, & you can't mug up so many things. So consider our second recommendation as an alternative
2.Principles of Forensic Medicine and Toxicology by Rajesh Bardale
Consider this book as a standard one as the language used in this book is quite understandable and easier for the student. The concepts are explained beautifully there and in the simplest possible language. It's like reading FMT from a storybook. The diagram & flowcharts everything is just fabulous, but somewhat how this book doesn't get the popularity among students what it deserves many students don't even know about this book.
The special feature of this book is its colorful diagrams & the picture of PM appearances, drowning, hanging, etc. which help us to understand how it looks like so that we can easily understand the concept rather than mugging up and as you know if you understand the concept we can easily recall it in our examination. As we all know that mugging up doesn't stay for a longer time soon or longer you will forget that but when you understand the concept it stay for a longer time. The content of this book is accurate and so don't worry about that.
3.Review of Forensic Medicine and Toxicology including Clinical & Pathological by Biswas Gautam
Another exam-centric book but again its language it's quite complicated compare to Rajesh Bardale. It contains a lesser amount of diagrams putting this aside overall it's a good book that can help you for examination.
We also recommended this as a standard book for toxicology as you will get a detailed idea of the toxicology it also contains the mnemonics for the action of the poison which helps you a lot for remembering them for examinations. It contains the poison's color plates, which will be extremely helpful for your practicals and your viva questions. so consider this book is the best one for toxicology.
4.Textbook of Forensic Medicine & Toxicology: Principles & Practice: Principles by Krishan Vij
This book is just like the Gautam Biswas, but certain topics are nicely explained over here like a hostile witness, suspended animations, etc. You can take this book as another reference one, don't try to take this book as a standard one.
5.PARIKH TEXTBOOK OF MEDICAL JURISPRUDENCE FORENSIC MEDICINE AND TOXICOLOGY
It is a quite popular book among students Many Colleges use this as a standard book. It is a very informative book easy to learn compared to others and helpful from the exam perspective. Even many senior professors are using this book
Now moving ahead a special book i.e
6. Modern Medical Toxicology by V. V. Pillay
Interestingly this book contains only one part this is toxicological. So that makes it unique, it's a good reference book for toxicology. The content available here is in full depth so that you can easily understand the diagrams are excellent here, which helps you understand the topic in detail,  as it is a long book, it requires a lot of time, always keep that in your mind.
So that is it, if you want to buy the minimum books for forensic medicines then I would recommend you to just buy only one i.e Narayan Reddy if you evaluate everything then this is a good one
Please Make sure that whichever book you are going to buy, just get the latest edition available in the market because the terminologies, laws & their offenses are changing every year. So just make sure that the book which you are buying is the latest one. We recommend you to buy the books from Amazon as Amazon always has the latest version of the same book. Visit Amazon.
Also, check the best book available for the other subject by clicking here
We would like to say thank you for reading this article. Comment below any other book which you know might be helpful for forensic medicine, see you soon.