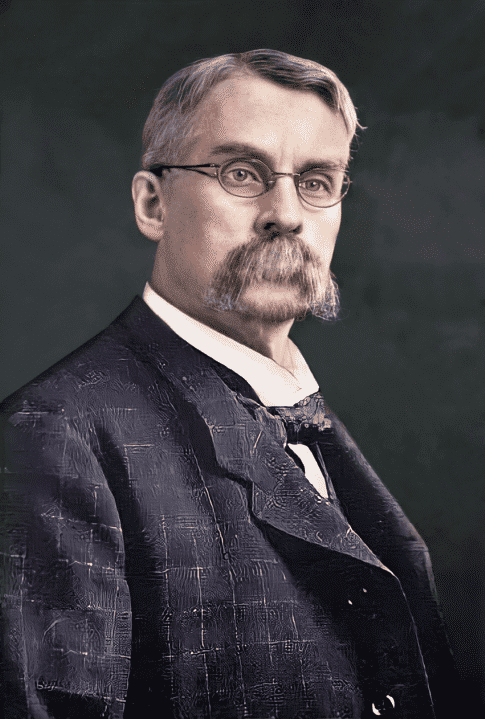 Dr. James Tyler Kent was an eminent world-renowned homeopath. He was born in Woodhull, New York in the United States of America on 31st March 1849. He acquired his primary and secondary education at Franklin academy of Prathsberg. He completed his higher education at Colgate University where he received his degree and Ph.D. in the year 1869.
He got his degree in A.M (alternative medicine) in the year 1870 from Madison University. He got his degree of medical education in the Eclectic system of medicine from Missouri. From the Medical Institute of Cincinnati, he underwent instructions in allopathy, homeopathy, naturopathy, and different medical systems. Because of his training in all systems of medicine, he developed a spirit of tolerance and knowledge about all the medicinal systems, and in his later years, he chose the best medicinal system i.e. Homeopathy.
Dr. James Tyler Kent or Dr. J.T. Kent Conversion to Homeopathy
Kent got married at the age of 26. He started his medical practice as an Eclectic physician in the city of St. Louis of America. In his early medical practice,  Dr. Kent was not impressed by homeopathy. But the incident that happened in his later years of life not only changed his impression but also the future of homeopathy.
His wife was suffering from insomnia, which refused to respond to any system of treatment. Dr.Richard Phelan a homeopathic physician treated her successfully. The case-taking methodology adopted and the water dose administered by Dr. Phelan initially seemed non-sensual to Kent, but the improvement of his wife by such a procedure impressed him very well. This situation made Kent study Organon of medicine and other books on homeopathy.
With the help of Dr. Phelan, Kent started practicing homeopathy and became a remarkable homeopath in the history of medicine. He died at Stevensville, Montana on June 6th of 1916.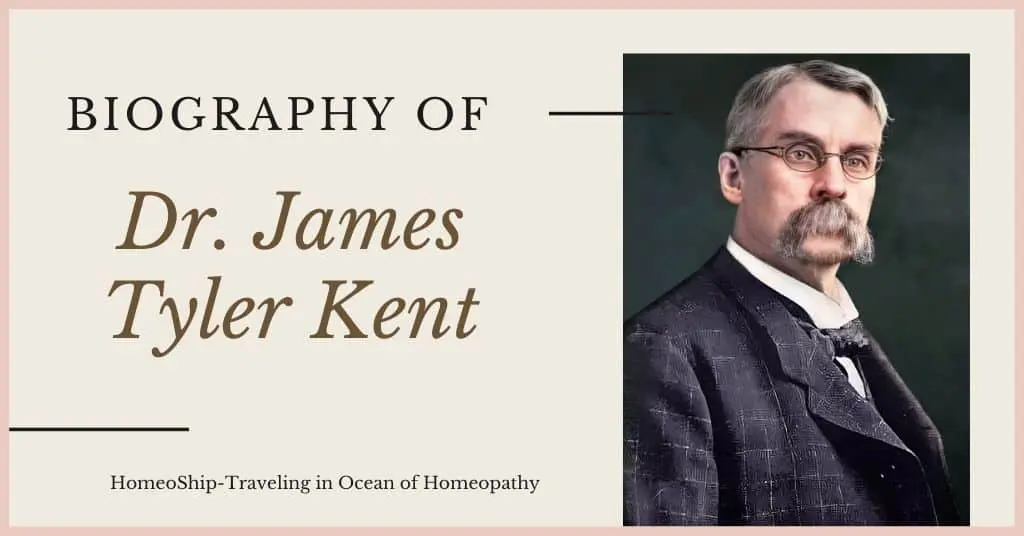 Contributions of Kent to Homeopathy
1. During the years of 1881-1888, he worked as the professor of materia medica in the post-graduate school of homeopathy, St. Louis.
2. Between the years 1890-1899, he was a teacher of materia medica at the school of homeopathy, Philadelphia.
3. In the year 1897 he published "The repertory of homeopathic materia medica". Kent was having sound knowledge in "philosophy, materia medica and repertory", which is called the triad of homeopathy. The intelligent use of all these three subjects only brings about success in homeopathic practice.
4. In the year 1900 he published "The lectures on homeopathic philosophy".
5. "The lectures on homeopathic materia medica" was published in the year 1905.
6. He worked as a senior lecturer in materia medica at the Hahnemann medical college and hospital in Chicago from 1903-1909.
7. The "lectures on homeopathic materia medica" was published in the year of 1905.
8. Kent advocated to begin the practice with lower potencies, especially the 30th potency, and then gradually increase to higher and higher potencies. This method was very close to the Hahnemannian method.
9. Famous homeopaths like Sir John Weir, A.H. Grimmer, Pierre Schmidt, B.K.Bose and many more were the disciples of Kent.
10. He advocated the use of 30th, 200th, 1M, 50M, CM, DM, MM potencies made with a centesimal potency scale.
11. "The series in degree" doctrine was introduced by Dr. J. T. Kent. He found that one potency is not sufficient in curing chronic diseases. Many chronic diseases were cured by keeping the patient under the influence of one indicated remedy for many years.
12. His contribution to the literature of homeopathy is remarkable. Evaluation of symptoms, simple substance, the law of vital action, and reaction are the few. According to the later law, "a medicine is too high to cure, so long as it is capable of aggravating the symptoms belonging to the sickness, in the first hour of an acute attack and in the first few days of a chronic sickness."
13. "What the doctors need to know?" is another contribution of Kent that guides the physician about the knowledge he must acquire.
14. Kent was also a great prover. In his books "New remedies, Clinical cases, Lesser writings and aphorism and percepts", he published the proving of new remedies.
15. Kent was a member of the American Institute of Homeopathy, International Hahnemannian Association, State Homeopathic Medical Society, British Homeopathic Society, London, President and Trustee of Chicago Homeopathic hospital.