Hi Readers, many of the neet aspirants, students, and their parents are asking the question that what is the language of BHMS? on google and quora multiple times and nobody is ready to give them a direct answer they are just misguiding them.
We just summarize all the random question into one single question i.e.
What is the medium of their education, if they pursue their career in B.H.M.S.?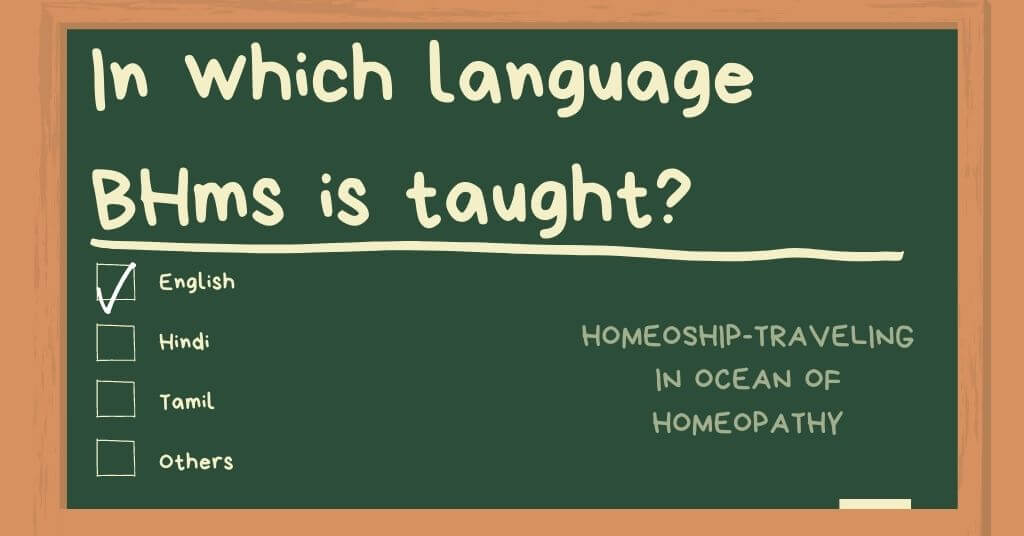 We believe in giving you a very straightforward answer that is the medium of Homeopathic studies is going to Only and Only One Language i.e. "English" and yes that's the harsh reality they don't have any other language option in the future. Now don't leave this article, as we have to discuss certain suggestions which you should do for your betterment.
Now what we can do in certain scenarios where we don't have any other options for the languages. So, here are our humble suggestions for the students for their betterment, they are not kind of rules or anything like that we are giving you a certain solution which was fruitful for us & will be fruitful for you as well.
As we understand how hard is to cope up with the sudden change in life but my dear friends and fellow reader Change is an essential part of life and now it's time to step out from your comfort zone.
Some suggestions for you:
The first one is regarding the college selection, make sure that you are selecting the college which is situated in your regional area or where your regional language is dominantly spoken, this might sound pretty odd but it's important to let us explain to you how it will be fruitful to you.
Being the same regional area the lecturers coming over there is also from the same regional area (majority of the cases, again repeating its not the rule). So they can easily understand our language barrier over English. If you're having any kind of doubt regarding your studies, you can easily ask in your regional language. In that way, you can easily understand your studies better.
But definitely, the language is going to be a barrier in the examinations as there are vivas but for the understanding purpose, the regional level colleges will be good for you. We are saying not saying that other colleges are worthless but give top priorities to regional colleges.
Our second and foremost suggestions that buy the books in the two different languages First one in the English language and another one in your regional language. Try changing in the authors who are giving you books in your regional languages
Might sound insane for you, try this if you didn't grasp the concept from the English book, just take out your regional book and understand the concept now just translated into English and explain it to the examiner. Understand this thing first, in med school we are trying to focus on learning and understanding not on how to mug up.
So that's it here, we wanted you to do something for us and yourself just raise this question among social media by sharing this post "Why there is only one single language for our education? Why such unfair with us?"
Read this also:
Also, Visit CCH official website to know more about Homeopathy in India
Thank you, that's all for today if you have any kind of doubt or any suggestions or do you find any university which is providing an option for the language of study or have any doubt regarding your career selection you can always comment below or ask us on Instagram